You probably don't need us to tell you that 2023 has been a tough year for B2B sales teams.
Pipeline creation is down, sales cycles are longer, win rates are down. And more than half of sellers are looking for a new job.
There are just over 6 months left in the year. To have a chance of hitting targets for the year, companies need to increase sales pipeline coverage now. But where will that new pipeline creation come from? How can teams increase sales rep productivity in a historically difficult economic environment?
There is hope. The hope lies in which accounts sellers work when.
There are a few things we know. First, even in a good year, 69% of salespeople don't have enough leads in their pipeline to hit quota. It's worse now, as inbound leads slow down and outbound gets harder. Right now, reps need more top of funnel sales pipeline to hit their opportunity creation goals.
In addition, up to half of sales performance can be explained by a rep's territory potential versus their sales skills. Even a great rep can't sell to a bad territory.
So just stop giving good reps bad accounts. Okay, if only it were that easy! Deciding what comprises a seller's book of accounts is a lot more complicated than just divvying up a list of accounts and handing them to a salesperson to work.
Imagine a world where every sales rep has a high-quality book of business that represents the best accounts your company should be working on. At any given point in time, every seller is prospecting into the best possible accounts. There are no more bad territories, each rep has the best opportunity to succeed, and you as a company have the best opportunity to cover all the accounts in your addressable market segmentation.
And the secret to doing that is to move the prioritization of what accounts to work forward. Don't just outsource it to your reps to figure out, along with all the other things they need to be doing. They can't, and they won't.
We have a brand new guide to help. In this guide, we're going to show you how you can be sure that every single sales rep on your team is calling on the best possible accounts in your market.
Our new guide walks you through what we've started calling the SPA framework. The SPA framework - segmentation, prioritization, allocation - covers everything a B2B sales team needs to ensure your highest priority accounts are always in the hands of sellers ready to close, and that your sellers always have a book of the best accounts in your CRM.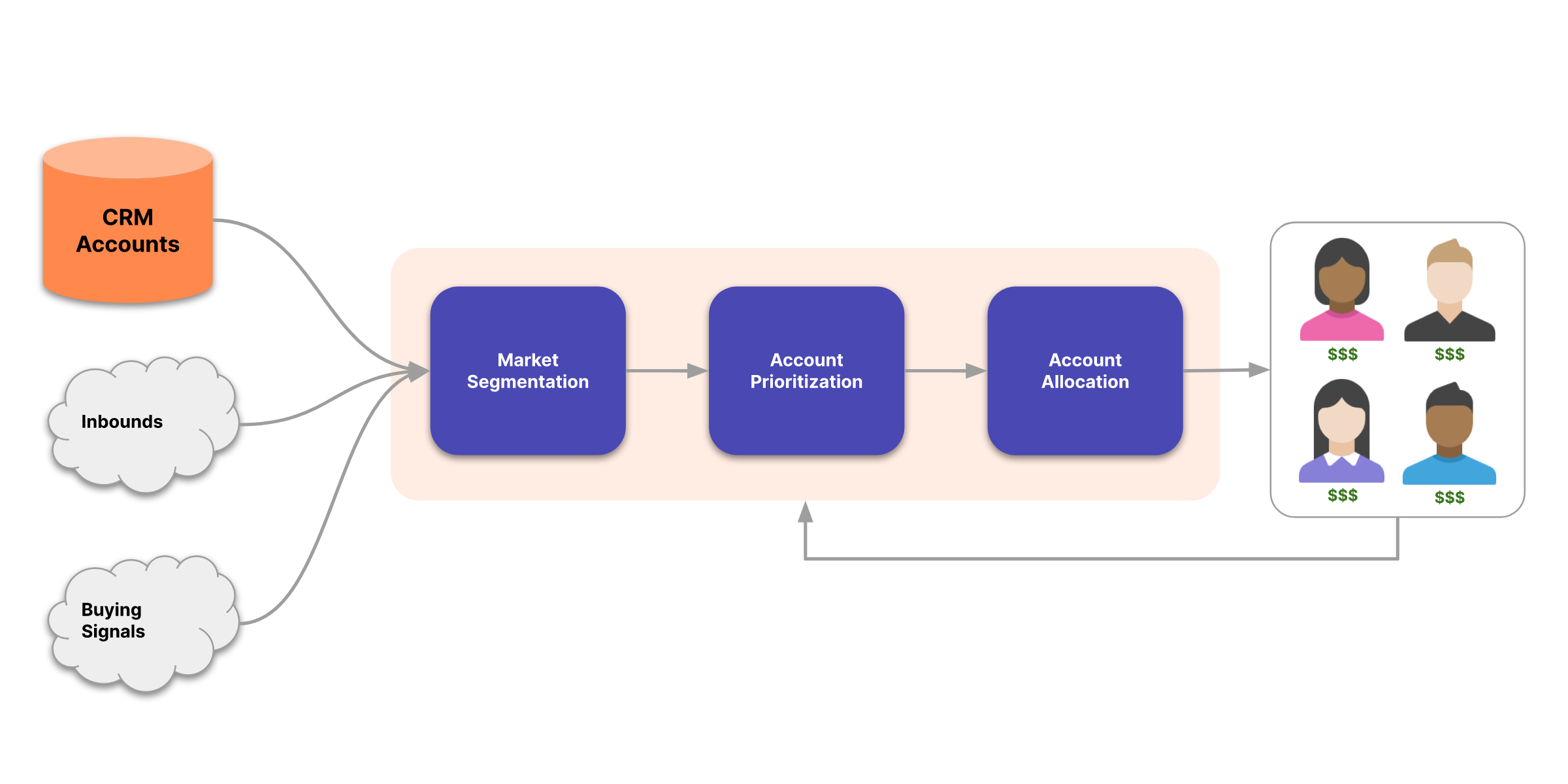 The guide includes sections about TAM and SOM, ICP, fit, timing and intent, account scoring, lead distribution and qualification, pools vs. pods, territories, dynamic books, rules of engagement, and everything in between.
It's a comprehensive guide to increase sales pipeline coverage and gives you the tools you need to succeed in the second half of 2023.
Get your free copy of our guide to the SPA framework for B2B revenue teams now!