Using the

SPA Framework

to increase B2B pipeline coverage
We all need more pipeline coverage going into the second half of 2023.
The SPA framework is a comprehensive approach to B2B pipeline coverage, so you can be sure every single sales rep on your team is calling on the best possible accounts in your market, all the time.
From segmentation to prioritization to allocation, our new guide to the SPA framework gives you the tools you need to hit your 2023 targets.
This free guide includes nearly 40 pages of concrete steps you can take to increase pipeline coverage. The guide includes sections on:
TAM and SOM
ICP
Fit, timing and intent
Account scoring
Lead distribution and qualification
Pools vs. pods
Territories
Dynamic books
Rules of engagement
An excerpt from our guide to the SPA framework for B2B sales teams
2023 has been a tough year for B2B sales teams.
Pipeline generation is down in 2023, by as much as 50%. Sales cycles are longer. And not just a few days longer - they're taking 20-40% longer this year. Win rates are down. Many companies are seeing win rates decrease to 17-20%.
So it's no surprise that more than half of sellers are looking for a new job.
What does all this mean?
There are just over 6 months left in the year. To have a chance of hitting targets for the year, companies need more pipeline coverage now. Many sales leaders are now aiming for 4x - 6x pipeline coverage to make up for slower, harder sales cycles.
Where will that new pipeline come from? How can teams increase sales rep productivity in a historically difficult economic environment?
There is hope. The hope lies in which accounts sellers work when. There are a few things we know. First, even in a good year, 69% of salespeople don't have enough leads in their pipeline to hit quota. It's worse now, as inbound leads slow down and outbound gets harder. Right now, reps need more top of funnel pipeline to hit their opportunity creation goals.
In addition, up to half of sales performance can be explained by a rep's territory potential versus their sales skills. Even a great rep can't sell to a bad territory.
So, just stop giving good reps bad accounts. Okay, if only it were that easy! Deciding what comprises a seller's book of accounts is a lot more complicated than just divvying up a list of accounts and handing them to a salesperson to work.
In the following pages, we're going to show you how you can make sure every sales rep on your team is calling on the best possible accounts in your market, and how you can implement these methods now, when you still have time to hit your 2023 targets.
We call this the SPA framework - segmentation, prioritization, and allocation. It's a comprehensive approach to matching quota capacity to your market to drive better account coverage.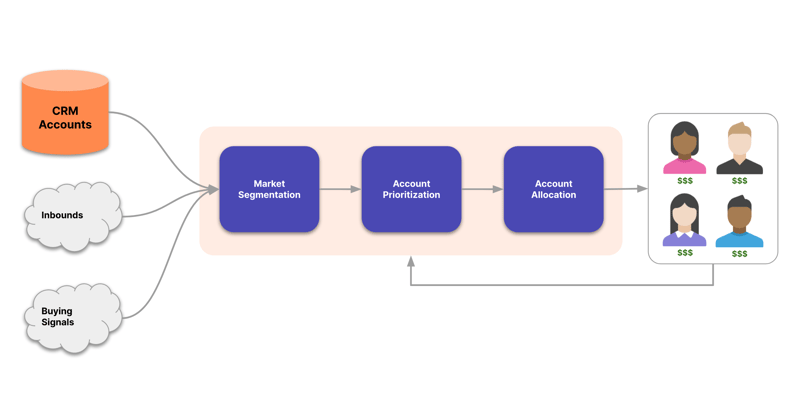 Making adjustments for the rest of 2023? Are you reforecasting for H2?
A dynamic books model is a flexible, responsive approach to account and market coverage, perfect for our current economic conditions.