A holistic dynamic books platform for modern B2B sales
Stop giving good reps bad accounts. Generate more pipeline with dynamic account coverage.
Gradient Works gives B2B sales teams the tools they need to segment, prioritize and assign the best accounts in their CRM, ensuring the right reps are always working the right accounts.
Our software is built on the idea that you can drive sales efficiency through continuous, dynamic account coverage of high-potential accounts.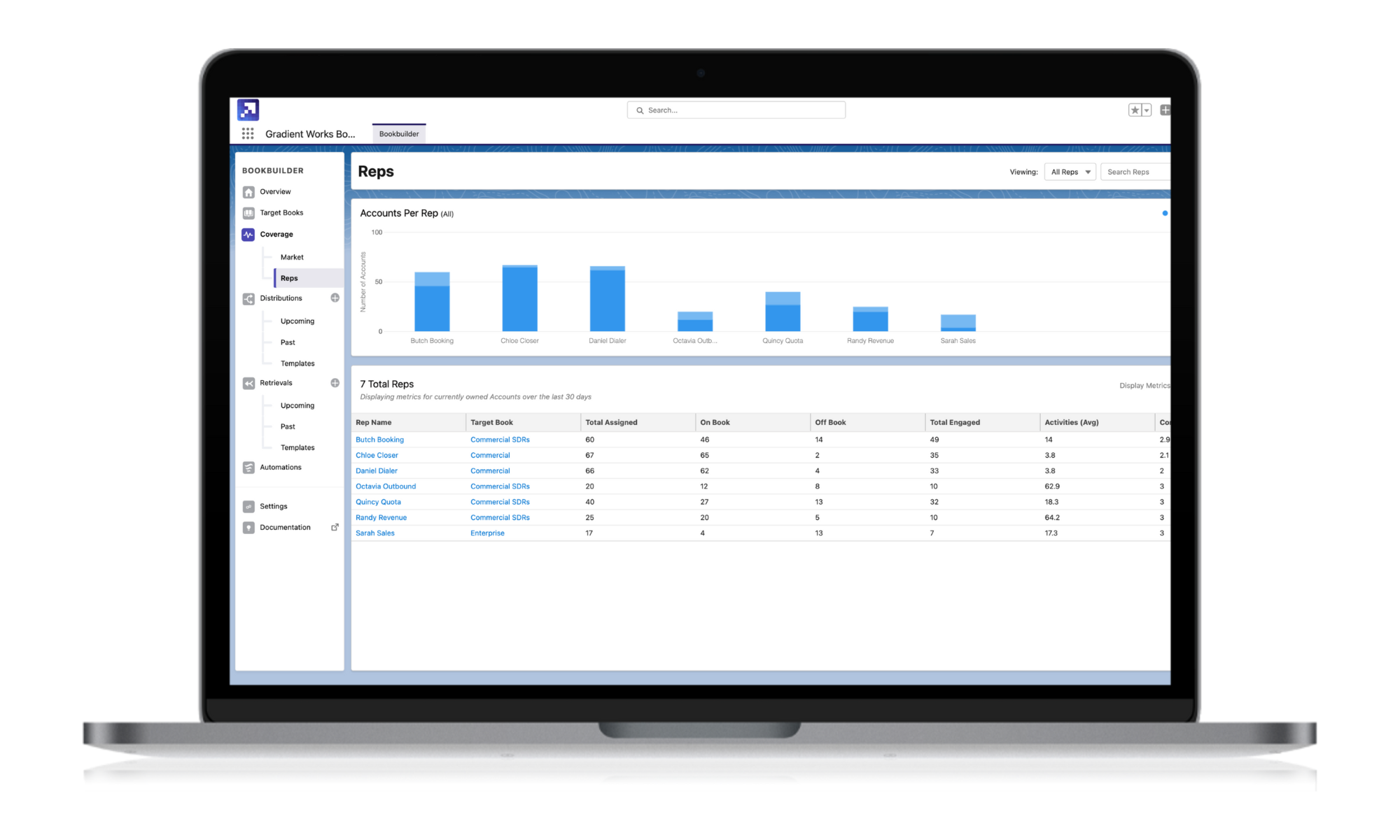 Gradient Works is everything sales teams need to manage dynamic account coverage - who works which accounts when.
Select accounts
Our all-new Market Map helps you segment your market and prioritize your prospects with AI. Find the best accounts in your CRM.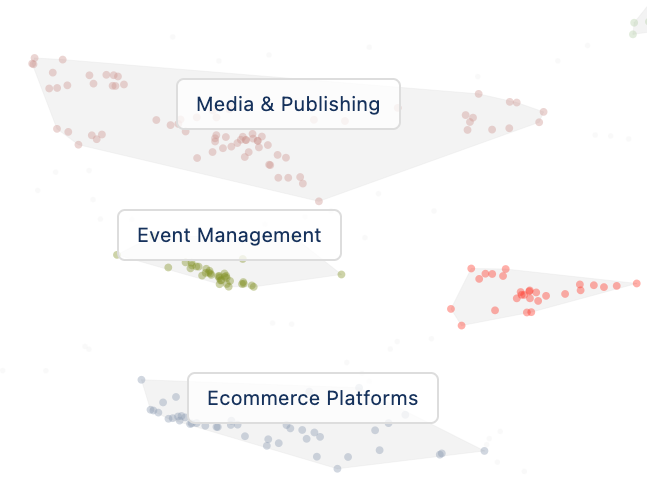 Assign accounts
Bookbuilder replace static territories with dynamic account allocation to reps with capacity. Ensure reps always have the best accounts to target.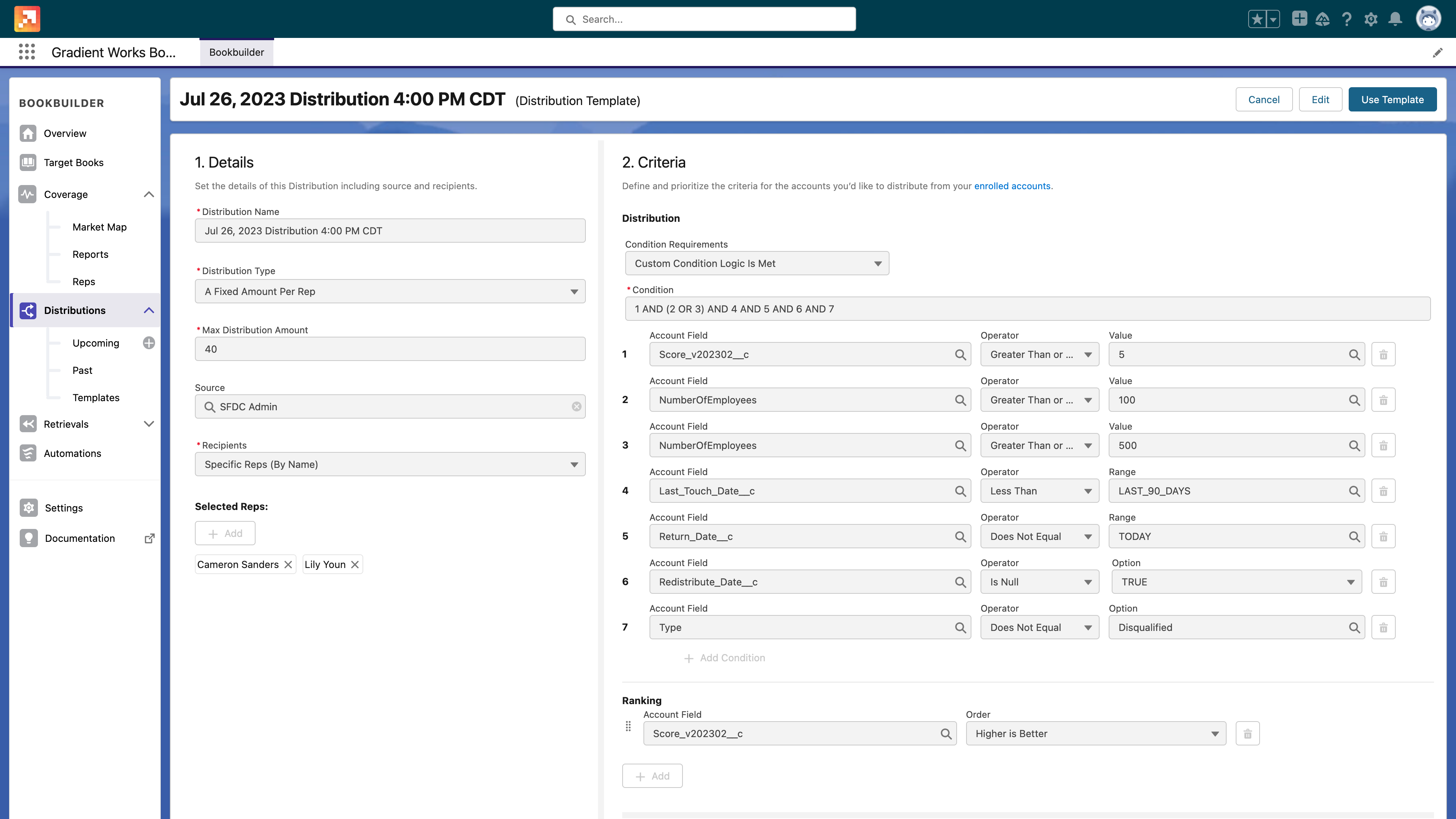 Optimize coverage
Bookbuilder's Account Coverage intelligence helps you hold reps accountable and address market-level coverage gaps.
Market Map
Reverse engineer your ICP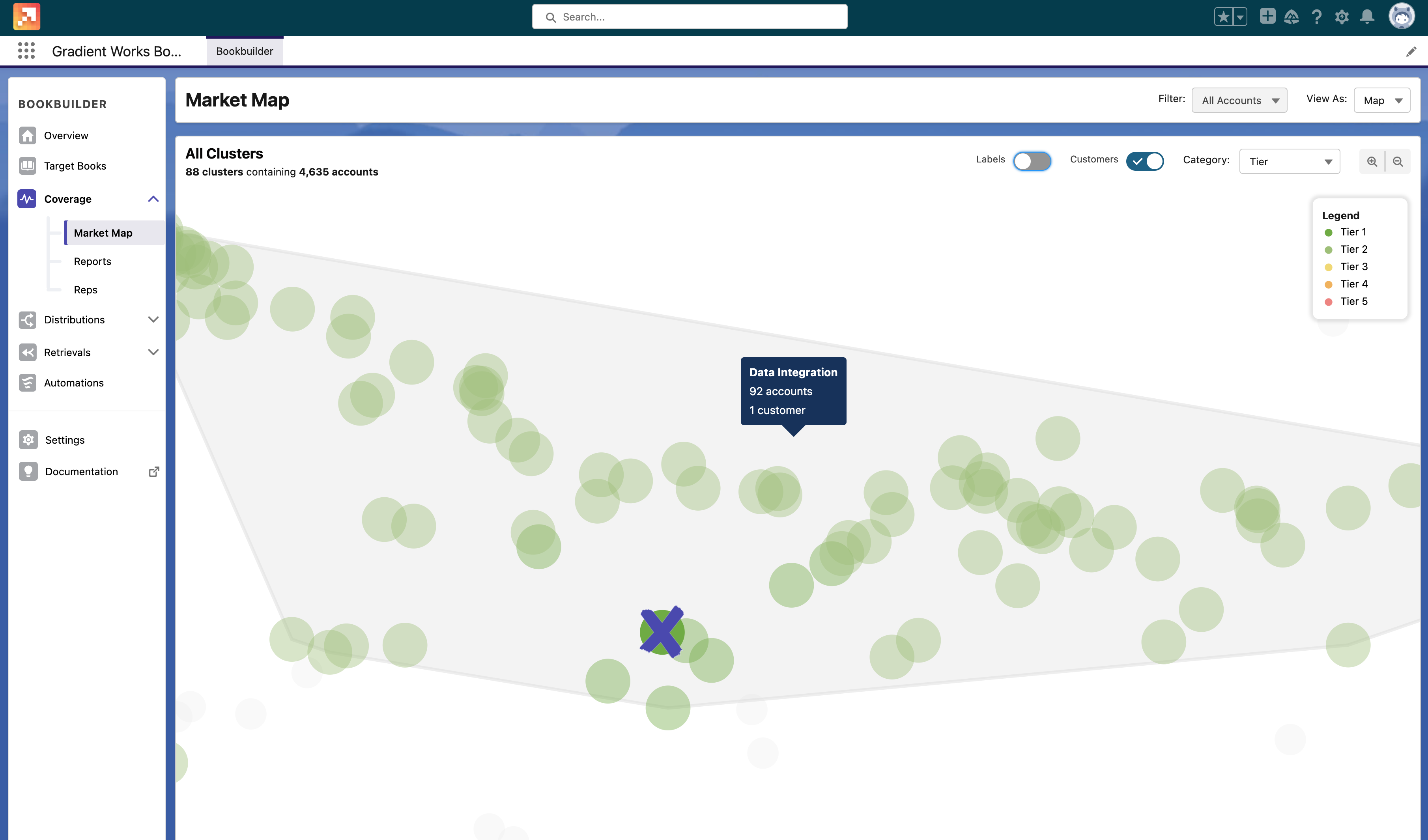 With Market Map, B2B sales teams can refine and implement their ICP and find target accounts.
Quickly identify high-potential prospects that are similar to their best existing customers

Provide sales reps with detailed information about each prioritized account to better customize outreach

Uncover hidden potential in the middle-tier accounts in their CRM, the ones they've previously missed
Bookbuilder
Build better books for better performance
Static territories are inefficient. Gradient Works Bookbuilder improves rep productivity by dynamically assigning high-priority accounts to available reps. Reps always know where to focus and get a fair shot at hitting quota.
Target Books. Replace static territories with focused books of accounts based on your business goals and rep capacity.
Distributions. Automatically distribute target accounts to reps that match their target book criteria. No spreadsheets required.
Retrievals. Make sure your reps cover their accounts with an automated use-it-or-lose-it process for engaged accounts.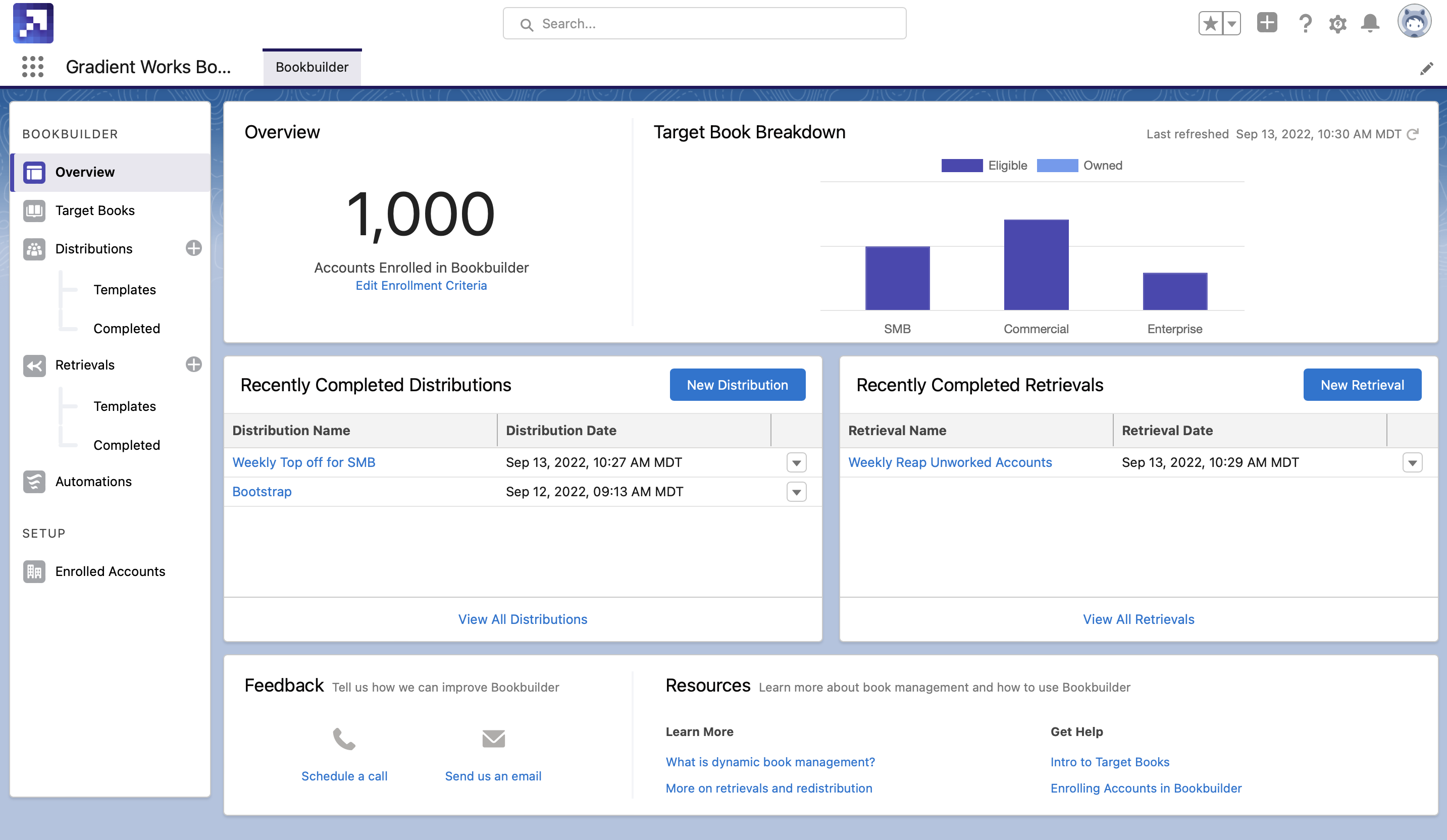 Optimize Coverage
Identify gaps in market coverage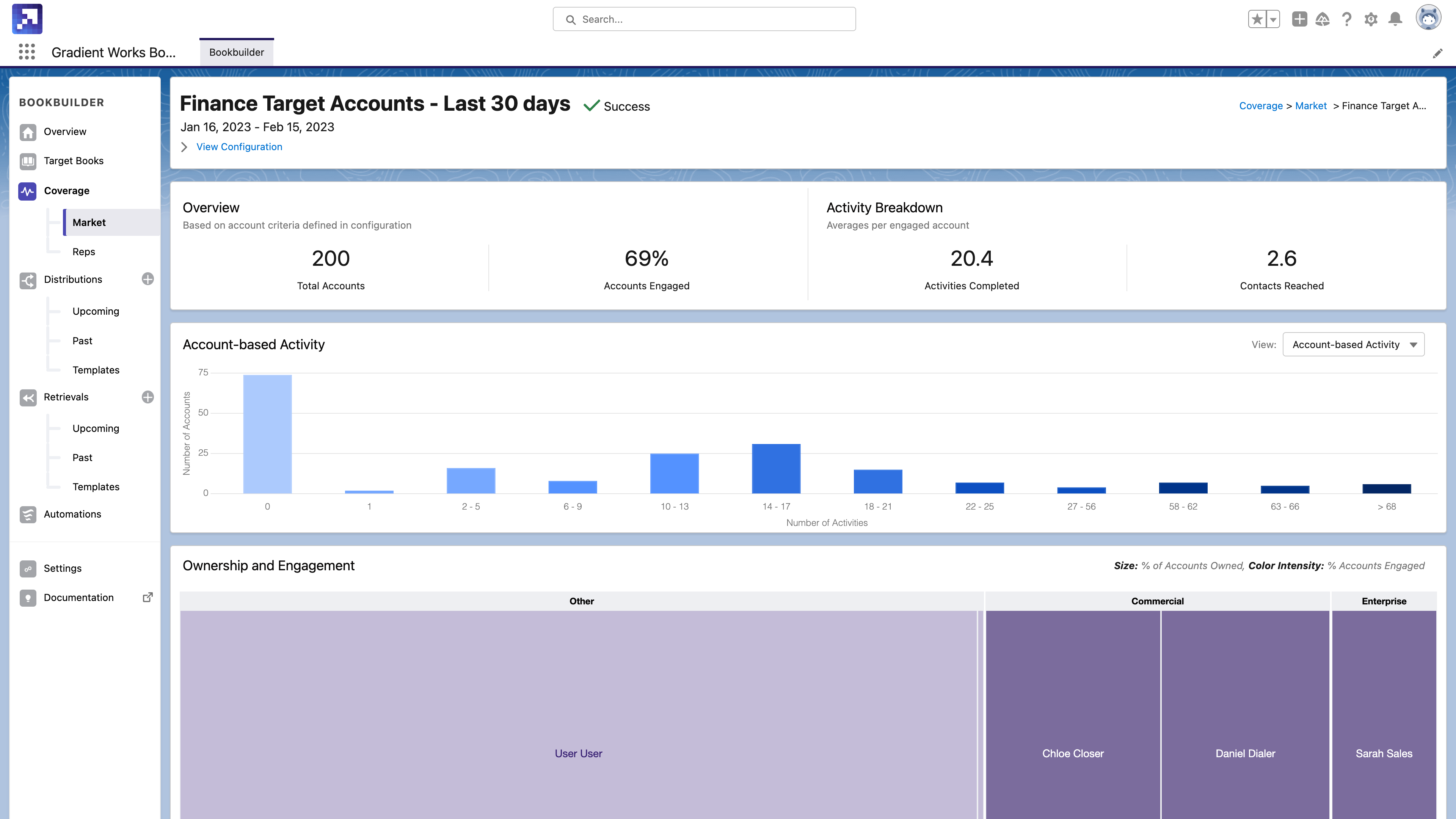 Introducing Account Coverage - an entirely new lever for sales teams to help reps stay focused.

Account Coverage provides intelligence that helps sales leaders understand how they're covering their market and identify opportunities for improvement in account allocations.

Whether or not you're ready to adopt a dynamic books model, our Account Coverage intelligence helps you drive more pipeline no matter where you are in your territory journey.
Routing
Fast, flexible lead and account distribution
Gradient Works Routing is an adaptive distribution engine that goes beyond simple round robin to be sure reps get the right accounts at the right time.
Instant, accurate lead distribution

Powerful matching capabilities

Assign any type of Salesforce object to any user using any field

Route on buying signals like inbound leads, intent and product usage

Trigger distributions on rep handoffs to move ownership from BDRs to AEs, AEs to AMs, and more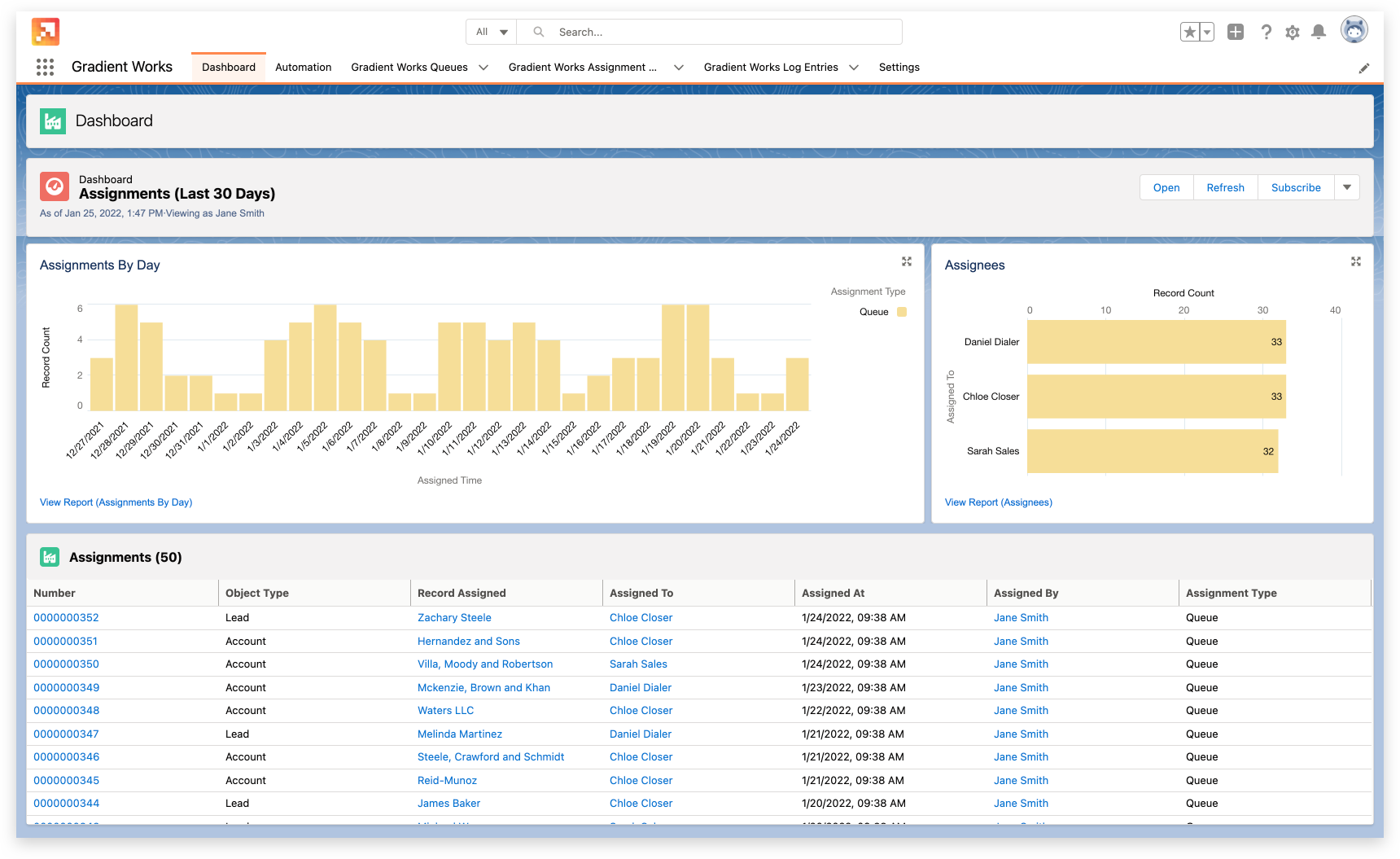 "Gradient Works played a key role in overhauling every rep handoff throughout our customer lifecycle - including lead routing, opportunity assignment, and customer account assignment. It's allowed all our client-facing teams to work that much more closely and efficiently together."
"Gradient Works Assignment has quickly become an essential part of our sales and martech stack. We did an early pilot with Gradient Works and after using it for a few months, knew we would be able to replace our existing routing solution and haven't looked back since."
"Aside from the benefits of making sure the team is focused on the right accounts and ensuring we're not wasting quota capacity, the planner in me is excited to have actual reliable data I can use to do capacity planning in the future. We'll have a much more accurate view of supply and demand and how we can align the two, which will make scaling our revenue growth about 1000% simpler."
"We've been able to change the way we manage the flow of our entire sales process. Gradient Works has helped us increase our revenue velocity - optimizing who's receiving what and reducing latency across our sales cycle."
"With Gradient Works, we've been able to move to a much more dynamic account allocation model, and we're seeing improvement across the board. It's been truly transformative."
"We've automated our MQL distribution process with Gradient Works, which has been instrumental to scaling our sales organization for the next stage of our company's growth."
Customizable and flexible, so it fits your unique process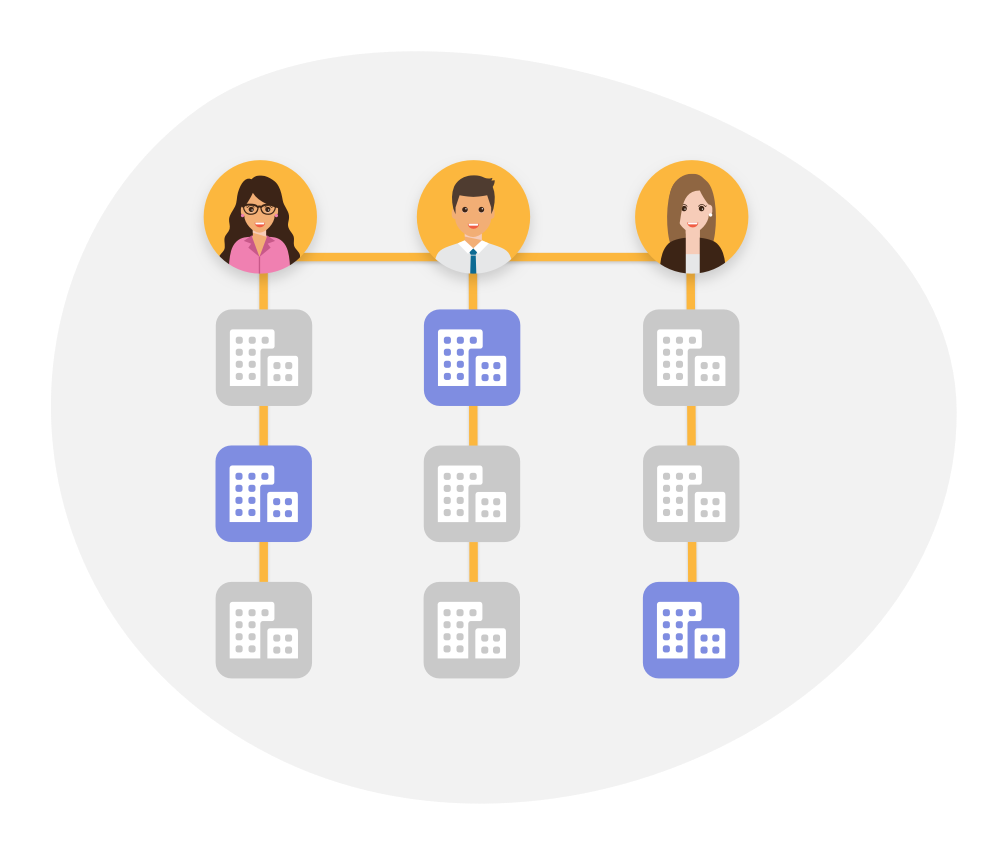 Gradient Works is built to be adaptable to your organization. You can be confident it will work for your team, regardless of what processes make your team unique.
Scheduled, recurring and ad-hoc distributions and retrievals

Target books built around your business goals

Adjustable rep capacity and availability settings

Customizable instrumentation of what it means to engage an account

Integrations with all the tools your team already uses, like Salesloft, Outreach, Google, Microsoft, Slack and more

Advanced Salesforce Flow capabilities for custom automations
Make your RevOps team happy
Save time for your RevOps team by automating manual tasks and eliminating spreadsheets in your account assignment process. Plus, we've built in a number of ways to improve Salesforce data hygiene.
Mass transfer accounts and replace spreadsheets and data loader

Automatically remove accounts from reps when they've stopped engaging

Enable reps to return accounts that need data updates

Set up flexible matching using fuzzy, exact or domain matching on leads, contacts and accounts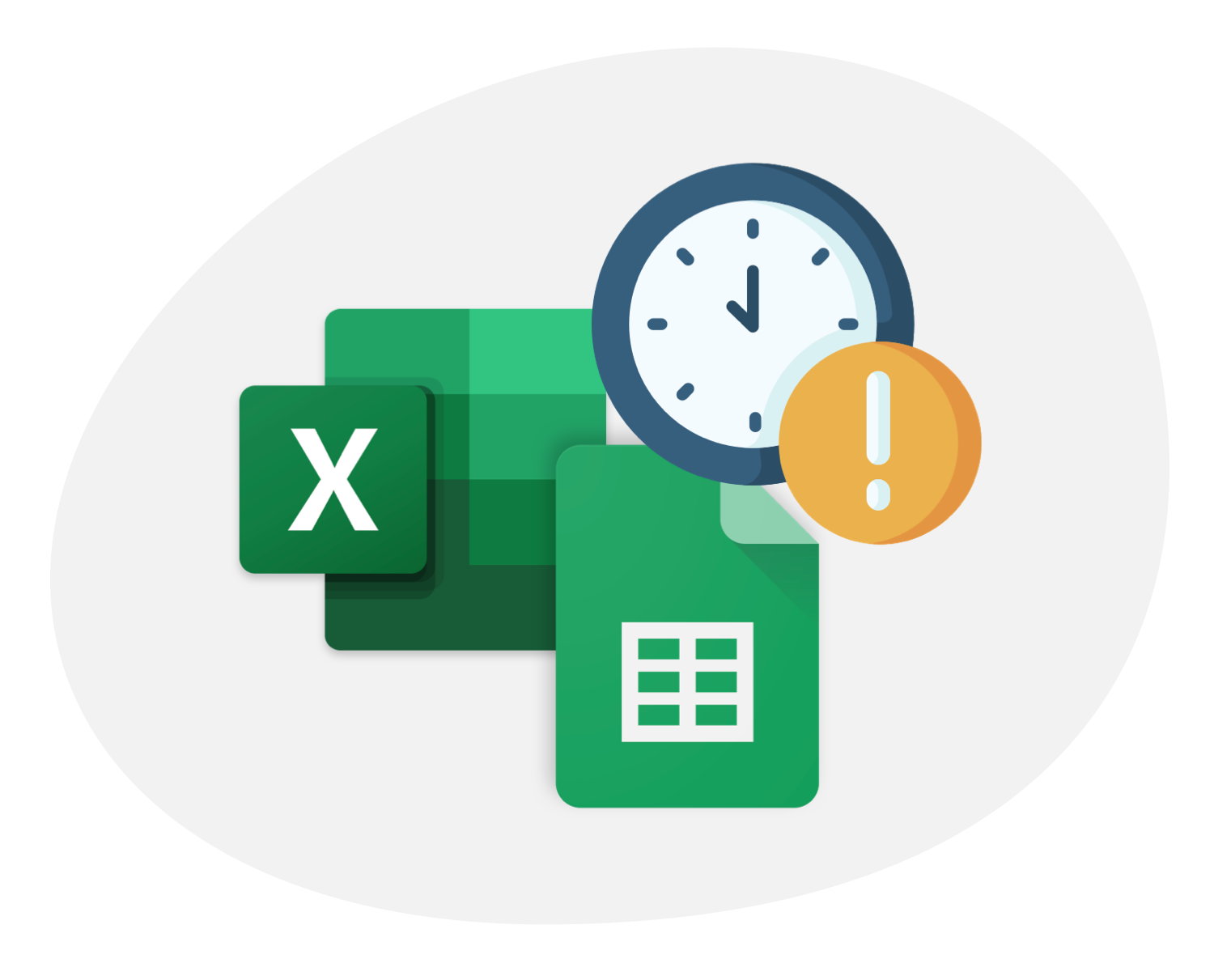 Your reps shouldn't have to be data scientists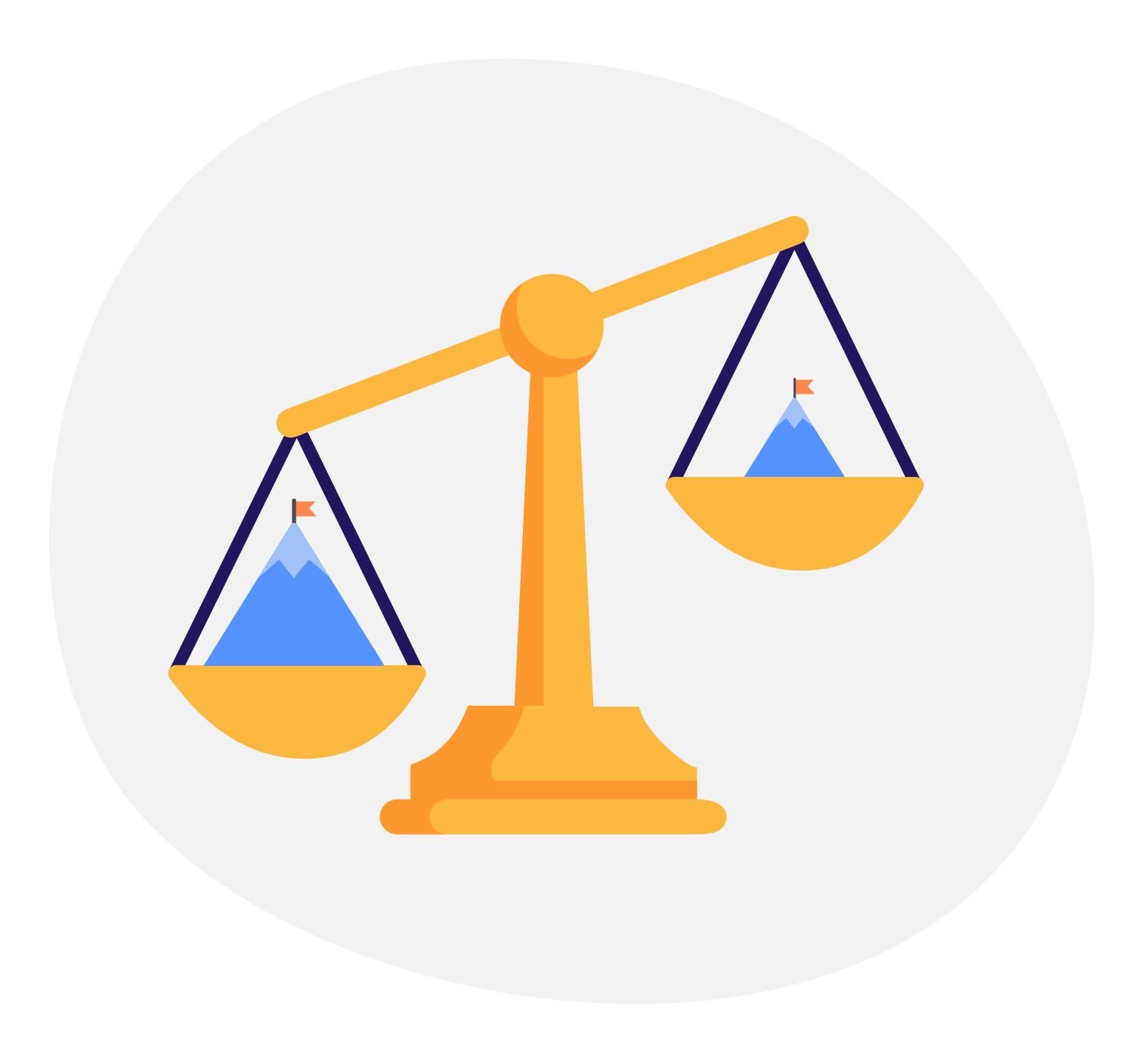 Stop forcing reps to make prioritization decisions about which accounts to work. Keep reps focused on the best accounts in your CRM with continuous account allocation based on rep capacity and ICP fit.
Schedule regular distributions and retrievals to keep reps fed and accounts fresh

Adjust your ideal book size for different groups of reps and account segments

Identify and automatically rebalance uneven books

Eliminate account hoarding and spraying and praying