Modern Territory Design
View this on-demand webinar now!
Drive attainment through better territory design
Watch this free, on-demand webinar for a lively discussion about modern territory design and why old models just don't work anymore.
Our speakers include Kevin McKeown, SaaS CRO; Ryan Milligan, Senior Director of Revenue Operations at QuotaPath; and Lily Youn, Head of Growth at Gradient Works. They discuss:
The types of territories they've seen in their careers

The role of data in territory design

Compensation and territories

The future of territory design

And much more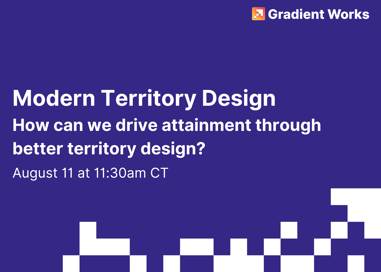 Right rep, right time. All the time.
Keep rep books dynamically balanced. Identify and prioritize high-potential accounts. Automate every account, lead and opportunity assignment - from inbound lead routing to outbound account distribution. Gradient Works can help. Let's talk.