Dynamic book management
A better approach to territories and account coverage, built on best practices from top B2B inside sales teams
Account books should never be static. Dynamic book management is a modern way of assigning accounts to sales reps, continually matching the best available accounts with rep capacity.

Dynamic book management ensures that all of your highest potential accounts are being worked, always. No more overlooked accounts. No more dusty territories. No more account hoarding.

It helps teams increase rep productivity and attainment. It ensures you get the most from each and every rep.
Learn how Omnipresent transformed their outbound sales processes with dynamic book management
Omnipresent increased opportunity creation by 16% in just a month with a dynamic books approach to territory design. Powered by Gradient Works Bookbuilder.
Why dynamic book management?
Dynamic book management is a modern sales territory design that continually assigns accounts (or leads or opportunities) to the best-matching rep with available capacity.
Traditional territory design is inefficient and unfair (read about the trouble with territories). Built on best practices from high performing B2B inside sales teams, dynamic books is a new way of equitably allocating accounts to increase rep productivity.
A dynamic books approach relies on books instead of territories. Every rep is assigned a book of accounts, based on account fit and in-market timing, as well as the rep's available capacity. When an account is converted or disqualified, it moves out of the rep's book and a fresh new account moves in.
Dynamic books allows sales teams to manage account supply and demand continuously. Best of all, dynamic books eliminates the need for annual territory planning and complicated territory spreadsheets.
"When sales territories are out of balance, organizations spend too much money and time on low-potential customers, while spending too little on high-potential customers. As a result, sales organizations can leave millions of dollars in lost productivity unrealized."
The world's first dynamic book management software
Introducing Gradient Works Bookbuilder, the world's first dynamic book management software. Gradient Works automates the full dynamic books process, ensuring reps always have balanced books with the highest-potential accounts.
Early Bookbuilder customers have seen incredible results, transforming their sales productivity by:
Working more accounts
Getting more reps on target
Ramping reps faster
Creating more pipeline
Saving hours of manual effort
The trouble with territories
Only 53% of sales reps regularly hit quota. 76% of companies use geographic territories. These things are related.
Despite all your investments in coaching, training and tools, attainment still suffers.
You're missing out on revenue because you're not deploying your reps effectively.
It's not your fault. It's because your territory design still relies on methods developed over 100 years ago. And 83% of companies still design their territories with spreadsheets.
But opportunity is not distributed geographically.
With a traditional territory model, some reps get territories with so many high-potential accounts they can't talk to them all, while other reps starve in territories with low potential. The result? Uneven attainment, unhappy reps, unrealized revenue.
100 years ago, this was the best sales teams could do. But we can do better now. That's where dynamic book management comes in.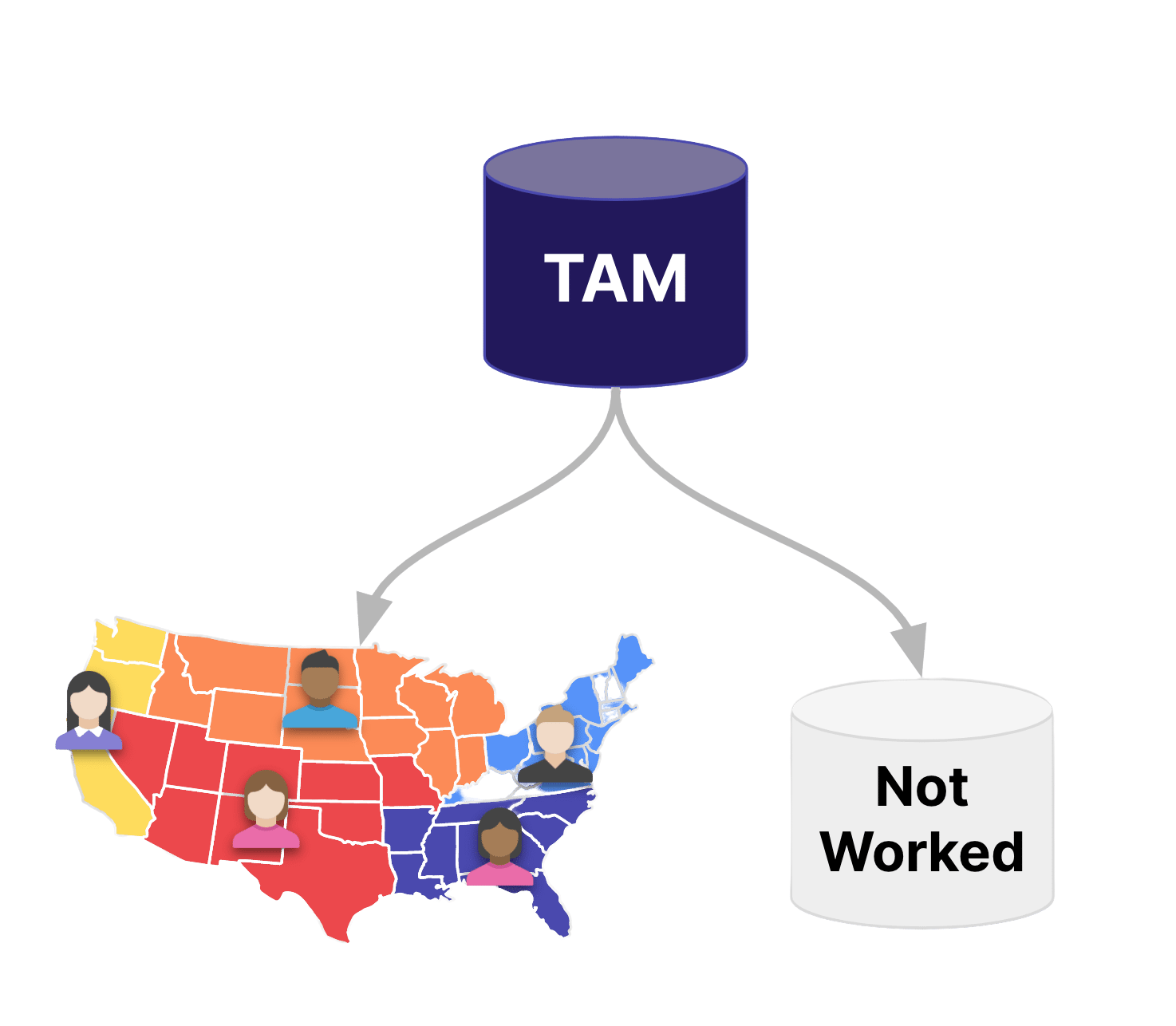 FAQs
Everything you ever wanted to know about dynamic book management
Dynamic book management continually matches available rep capacity with the best available accounts.

Static territories treat the list of accounts (the "territory") as fixed and the rep as changeable (e.g. a rep is "assigned to a territory"). Dynamic book management treats the rep as fixed and the list of accounts (the "book") as dynamic.

Instead of a fixed list of accounts, reps are assigned a "target book" which defines the types of accounts they're responsible for working. For example, a mid-market SDR might be responsible for working 100 accounts with more than $50MM but less than $500MM in annual revenue. When that rep starts, the best available accounts in the pool that meet the mid-market criteria would be distributed to her. As she works those accounts, she may learn that some are disqualified because they are with a competitor or have undergone M&A. When she learns this, she can return the account to the pool and a new mid-market account is distributed to her. She is responsible for actively working each account in her book. If she stops working an account, it will be retrieved from her and placed back in the pool or future distribution.

We use this term to describe any territory design that allocates a predefined group of accounts to a rep that they're responsible for over a long period of time (usually at year), regardless of the account's buying stage. Historically, sales teams have carved up their addressable market into geographic areas (territories) during an annual planning process. They then assign a sales rep to each pre-defined territory. Territories do not, however, have to be geographic. Companies may give reps a group of "named accounts" that they're responsible for. These accounts may have no particular geographic arrangement. We would still consider this a "static territory" because the set of accounts doesn't change over time, which is a core feature of dynamic books.

No, dynamic book management works for inbound and hybrid teams as well. Every team benefits when reps stay focused on a clearly defined book of accounts.

Hybrid teams may want to define part of their target book focused on inbound and part focused on outbound. The size of each of these segments depends on the proportion of time the reps spend on each activity.
Inbound teams without well-defined books often end up with account ownership imbalances because prospect accounts never return to the pool. This "hoarding" behavior leads to uneven attainment and challenges for ramping reps because long-tenured reps end up with "options" on large numbers of high-quality accounts. By returning unworked accounts to the pool, and re-distributing them the next time they inbound, teams can avoid these problems.

They go together well but dynamic books and ABM can be used separately. ABM shifts the focus from engaging with individual contacts to engaging with an account as a whole. Most ABM products also aim to provide intent data about buying signals for specific accounts. These tell you if the account is in-market for a solution like yours. Many companies apply ABM to static territory models: reps can make use of intent information on accounts in their territory to prioritize follow-up. In this model, unassigned accounts usually remain unworked even if they demonstrate intent. If you're already using ABM, dynamic book management allows you to make the most of your investment. Dynamic books make it possible to ensure reps are working current high-intent accounts and can set low-intent accounts aside until they demonstrate intent again.

If you don't have an ABM product to provide intent signals, dynamic book management still helps you more effectively cover your TAM.

Yes, it's especially useful if those full-cycle reps are required to spend some portion of their time prospecting.

Dynamic book management is designed for new business inside sales teams. Because reps work with a dynamic list of accounts, dynamic books is not a good choice for highly relationship-driven sales or situations where geography matters a lot (such as field sales). This means it's not a great choice for account management functions that are designed to build long-term relationships.

Pods are the result of a static territory model: an AE is assigned to a territory and an SDR supports him in prospecting in that territory. Dynamic book management does away with pods. SDRs work their dynamic books independently from AEs. When they book a meeting, they assign the account to an AE via a dynamic assignment process. If the team expects the AE will self-source some pipeline, they may also maintain a dynamic book of accounts they work independently using dynamic books principles.

Static territory models are inherently unfair. Some reps don't have enough quality in-market accounts to work while others have too many and can't work them all. Dynamic book management ensures that the highest quality, highest-fit accounts are evenly distributed across reps.

Here's an example:
Jane has the Northern Arkansas territory with 100 accounts while Joe has Northern California with 100 accounts. However, all accounts aren't created equal and aren't in market at the same time. Jane's territory may only have 20 in-market high-quality accounts while all 100 of Joe's are great. Further, let's say that each rep can really only work 60 accounts at once. Jane will use her time finding increasingly creative ways to reach out to her 20 accounts or drum up business on the 80 remaining marginal accounts, while Joe focuses on the top 60 cream of the crop and ignores a large number of his accounts. Dynamic books ensures that Jane and Joe split the 120 total accounts evenly and are each using their efforts to work 60 high quality accounts.

If you have a conversion rate of 10% on high quality accounts here's what you'll get:

Static Territories

Jane: 2 opps (20 * 10%)
Joe: 6 opps (60 * 10%)
Total: 8 opps (Book productivity: 6.7%)

Dynamic Books

Jane: 6 opps (60 * 10%)
Joe: 6 opps (60 * 10%)
Total: 12 opps (Book productivity: 10%)

What about the 80 accounts that were in Jane's territory? Well, they go into the pool to be assigned if a) they demonstrate meaningful buying signals or b) there's no other more valuable accounts to work.

Territory design: The overall strategy behind how you think about and structure territories

Territory planning: The periodic (usually annual) process of carving up territories to give to reps

Territory management: The ongoing process of maintaining and optimizing your territory distribution

Dynamic books is a form of territory design, and if you adopt that form of territory design, your approach to territory planning and management will drastically change. You may never have a need for territory planning again.

Here are other terms we use in dynamic book management.

Pool: A group of accounts that are unassigned and available to be worked
Book: A group of accounts currently owned (and being worked) by a rep
Distribution: Sending one or more unworked accounts to a rep to be worked
Return: A rep sends a fully worked and disqualified account back to the pool
Retrieval: An automated return of accounts that are not actively being worked to the pool
Signals: Fit and timing criteria that indicate whether or not an account is high potential or high intent
Working: An account is being "worked" when a rep is actively engaging (or at least actively trying to engage) with a prospect. An account is no longer being worked after some period of time after the last meaningful activity.
Rest: A period of time when an account sits unworked in the pool before it is eligible to be worked again

Gradient Works is the world's first dynamic book management software. With Gradient Works, you can automate the full dynamic books process, including account retrievals and distributions, book balancing, and so much more. Request a demo to learn more.
Ready to move to dynamic books?
Or just want to learn more? Let's have a quick conversation. Talk to our team about how dynamic book management software from Gradient Works can help increase attainment and keep your reps' books balanced.